Tom 6 • Numer 2 • Grudzień 2019 Volumin 6 • Number 2 • December 2019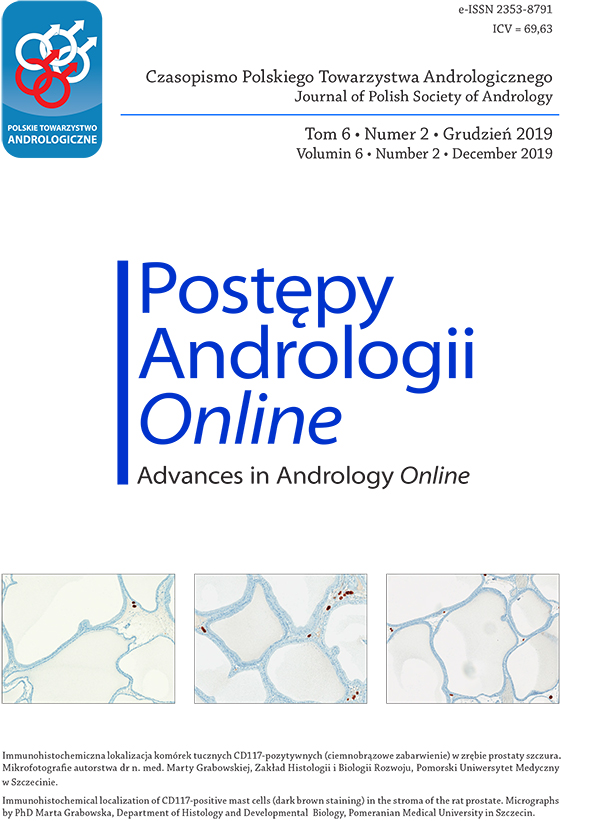 KOMITET REDAKCYJNY
Redaktor naczelny:
Redaktor naczelny:dr hab. n. med., prof. nadzw. PUM Małgorzata Piasecka, Szczecin
Zastępca redaktora naczelnego: prof. dr hab. n. med. Jolanta Słowikowska-Hilczer, Łódź
Redaktor pomocniczy: dr n. med. Kamil Gill, Szczecin
Sekretarz redakcji:dr hab. n. med. Agnieszka Kolasa-Wołosiuk, Szczecin
Skarbnik redakcji:dr hab. n. med. Renata Walczak-Jędrzejowska, Łódź
Członkowie komitetu redakcyjnego:
dr n. med. Szymon Bakalczuk, Lublin
dr n. med. Leszek Bergier, Kraków
prof. dr hab. n. biol. Barbara Bilińska, Kraków
prof. dr hab. n. med. Barbara Darewicz, Białystok
Prof., MD, PhD Aleksander Giwercman, Malmö, Sweden
PhD Yvonne Lundberg Giwercman, Malmö, Sweden
Prof., PhD (UPE/NMMU) and PhD (US) Gerhard Van der Horst, Republika Południowej Afryki (Bellville, Republic of South Africa)
prof. dr hab. n. med. Grzegorz Jakiel, Warszawa
prof. dr hab. n. med. Piotr Jędrzejczak, Poznań
dr hab. n. med., prof. UMK Roman Kotzbach, Bydgoszcz
prof. dr hab. n. med. Krzysztof Kula, Łódź
lek. med. Robert Kulik, Warszawa
prof. dr hab. n. med. Maria Laszczyńska, Szczecin
dr hab. n. med. Grzegorz Ludwikowski, Bydgoszcz
prof. dr hab. n. med. Marek Mędraś, Wrocław
MD, PhD, DMSc Ewa Rajpert-De Meyts, Kopenhaga, Dania (Copenhagen, Denmark)
dr n. med. Aleksandra Robacha, Łódź
dr n. med. Maria Szarras-Czapnik, Warszawa
Adres redakcji:
Zakład Histologii i Biologii Rozwoju Wydział Nauk o Zdrowiu Pomorski Uniwersytet Medyczny w Szczecinie 71-210 Szczecin ul. Żołnierska 48 tel. 91 48 00 917, 91 48 00 908 e-mail: mpiasecka@ipartner.com.pl
Projekt graficzny:
Waldemar Jachimczak
Małgorzata Piasecka
Kamil Gill
Korekta języka polskiego:Wojciech Markowski
Korekta języka angielskiego:Joanna Ingielewicz
Małgorzata Piasecka
Kamil GillSkład i łamanie:
Waldemar Jachimczak
SPIS TREŚCI CONTENTS
O czasopiśmie / About Journal -------------4

Sprawozdanie i streszczenie wykładów z Konferencji Polskiego Towarzystwa Andrologicznego – 21. Dzień Andrologiczny---------6
Report and Abstract of lectures from Symposium of Scientific Training of the Polish Society of Andrology – 21th Day of Andrology -------16

Rekomendacje EAU / EAU guidelines

G. Bonkat (przewodniczący), R.R. Bartoletti, F. Bruyère, T. Cai, S.E. Geerlings,
B. Köves, S. Schubert, F. Wagenlehner, Mezei, A. Pilatz, B. Pradere, R. Veeratterapillay
Rekomendacje dotyczące postępowania w zakażeniach męskiego układu moczowego i płciowego
Guidelines on urological infections
Tłumaczenie i przygotowanie wersji polskiej
Translation and elaboration of Polish version:
Marta Sochaj, Jolanta Słowikowska-Hilczer -------29

K. Hatzimouratidis (przewodniczący), F. Giuliano, I. Moncada, A. Muneer, A. Salonia,
P. Verze, A. Parnham, E.C. Serefoglu
Rekomendacje dotyczące postępowania w zaburzeniach seksualnych u mężczyzn
Guidelines on male sexual dysfunction: erectile dysfunction and
premature ejaculation
Tłumaczenie i przygotowanie wersji polskiej
Translation and elaboration of Polish version:
Marta Sochaj, Jolanta Słowikowska-Hilczer -------43

Instrukcje dla autorów / Instructions for authors -------83

Recenzenci prac opublikowanych w 2019 r. / Reviewers in 2019 -------87


O CZASOPIŚMIE ABOUT THE JOURNAL
Wersja elektroniczna czasopisma jest wersją pierwotną. Informacje zawarte w czasopiśmie są udostępniane na zasadzie Open Access – dostęp do informacji naukowej jest bezpłatny i nieograniczony.The electronic version of the journal is a original version. Access to scientific information published in the journal is free and unlimited (Open Access).


Zaburzenia męskiego układu płciowego dotyczą osób w różnym wieku i w większości przypadków prowadzą do niepłodności, która nabrała już rangi choroby cywili-zacyjnej. Najczęściej identyfikowanymi nieprawidłowo-ściami są hipogonadyzm, zaburzenia seksualne, wady rozwojowe narządów płciowych, nowotwory jąder i pro-staty. Ze względu na specyficzne i coraz bardziej zanie-czyszczone środowisko antropogeniczne dotyczą one głównie społeczeństw rozwiniętych, w tym również Polski, i stanowią istotny oraz narastający problem medyczny, społeczny, demograficzny, a także zdrowia publicznego. Nauka, która zajmuje się fizjologią i zabu-rzeniami męskiego układu płciowego w aspekcie nauk podstawowych i klinicznych, to andrologia. Ponieważ jest to młoda dziedzina nauki, jeszcze do niedawna nie-zadowalający stan wiedzy ograniczał możliwości diagno-styki oraz leczenia zaburzeń męskiego układu płciowego. Jednak w ostatnich latach obserwuje się niezwykle dyna-miczny rozwój andrologii, szczególnie molekularnej, spo-wodowany wprowadzeniem nowych metod badawczych z zakresu biochemii, biologii i genetyki molekularnej. Andrologia staje się dziedziną interdyscyplinarną integru-jącą wiedzę z różnych dyscyplin medycznych i naukowych. Informacje związane z tymi zagadnieniami z trudem docierają do lekarzy i osób zainteresowanych w naszym kraju, ponieważ jest niewiele literatury w języku polskim, a wykłady wygłaszane podczas konferencji nie zawsze wyczerpująco wyjaśniają wątpliwości dotyczące m.in. postępowania diagnostycznego, terapeutycznego, reko-mendacji czy też proponowanych algorytmów. Stąd też potrzeba stworzenia czasopisma prezentującego wiedzę andrologiczną lekarzom różnych specjalności, diagno-stom laboratoryjnym i przedstawicielom nauk podstawo-wych. Czasopismo "Postępy Andrologii Online" powstało z inicjatywy Polskiego Towarzystwa Andrologicznego, które zainteresowane jest integracją środowiska osób zajmujących się różnymi aspektami męskiego układu płciowego, uzupełnieniem i poszerzeniem ich wiedzy, a także poprawą opieki zdrowotnej nad mężczyznami w naszym kraju.Celem czasopisma jest: 1) dostarczenie istotnych informacji na temat fizjologii i patologii męskiego układu płciowego, 2) propagowanie praktycznej wiedzy andro-logicznej kierowanej do szerokich kręgów odbiorców, 3) wymiana poglądów i opinii na temat zagadnień kli-nicznych oraz wyników badań doświadczalnych oraz 4) przekazywanie informacji dotyczących konferencji i kursów o tematyce andrologicznej. Proponowana tematyka czasopisma to: 1) andrologia kliniczna z uwzględnieniem etiopatogenezy, diagno-styki i leczenia m.in. zaburzeń rozwojowych, niepłod-ności i procesów starzenia mężczyzn, 2) nowatorskie metody diagnostyczne, 3) andrologia doświadczalna rozwijająca się w oparciu o nauki podstawowe oraz 4) inne interdyscyplinarne tematy związane z dzie-dziną andrologii. Czasopismo kierowane jest do lekarzy specjalności bezpośrednio lub pośrednio związanych z andrologią, m.in. urologów, endokrynologów, ginekologów, pedia-trów, ale także do lekarzy rodzinnych spotykających się z coraz częstszym problemem niepłodności partnerskiej i problemami starzejących się mężczyzn. Ponadto naszą intencją jest zdobycie zainteresowania diagnostów labo-ratoryjnych odgrywających istotną rolę w prawidłowym postępowaniu terapeutycznym opartym na szerokim panelu testów i badań, których wdrożenie wciąż wymaga odpowiednich i wyczerpujących szkoleń z diagnostyki andrologicznej, w tym seminologicznej. Mamy nadzieję, że nasze czasopismo wzbudzi również zainteresowanie biologów zajmujących się czynnością męskiego układu płciowego w ramach nauk podstawowych, a także lekarzy weterynarii oraz innych osób, które znajdą informacje poszerzające ich wiedzę i kształtujące opinię z zakresu szeroko pojętych nauk andrologicznych. Zachęcamy Państwa do publikowania prac orygi-nalnych, kazuistycznych i krótkich komunikatów, jak również prac poglądowych, opracowanych w konden-sacyjnej, dydaktycznej i przystępnej formie. W pracach tych autorzy powinni przedstawiać aktualny stan wiedzy światowej oraz swoje opinie. Chcemy, aby czasopismo spełniało rolę informatora i przewodnika w dziedzinie andrologii oraz stanowiło forum dyskusyjne. Ponadto, zapraszamy do publikowania artykułów będących tłumaczeniem publikacji ukazujących się w języku angiel-skim, które przedstawiają istotne postępy w andrologii. http://www.postepyandrologii.pl
Małgorzata Piasecka
redaktor naczelny
Jolanta Słowikowska -Hilczer
przewodnicząca
Polskiego Towarzystwa Andrologicznego

Disorders of the male reproductive system relate to people of different ages and in most cases lead to infer-tility, which has already acquired a rank of a disease associated with the progress of civilization. The most frequently identified irregularities are hypogonadism, sexual dysfunction, genital malformations, testicular or prostate cancer. Due to the specific and increasingly pol-luted anthropogenic environment they concern mainly developed societies, including Poland, and are an impor-tant and growing medical, social, demographic and public health problem. A science that deals with the physiology and with disorders of the male reproductive system in terms of the basic and clinical science is andrology. As this is a young field of science, until recently an unsatis-factory state of knowledge limited the possibilities of the diagnostics and treatment of the disorders of the male reproductive system. However, in recent years there has been a very dynamic development of andrology, espe-cially in the molecular aspect, due to the introduction of new methods of research in the field of biochemistry, biology and molecular genetics. Andrology is becoming an interdisciplinary field which integrates knowledge from various medical and scientific disciplines. Information related to these issues reach doctors and interested people in our country with difficulty, because there is few publi-cations in Polish. Lectures given during conferences also do not always fully explain the doubts concerning diag-nostic and therapeutic proceedings, recommendations or proposed algorithms. Hence, the need for a journal presenting the knowledge of andrology to the doctors of various specialties, laboratory diagnosticians and repre-sentatives of the basic science. The journal "Progress in Andrology Online" is an initiative of the Polish Society of Andrology, which is interested in the integration of people involved in different aspects of the male repro-ductive system, supplement and broadening their knowl-edge, as well as the improvement of health care for men in our country.The aim of the journal is: 1) to provide relevant information about the physiology and pathology of the male reproductive system, 2) the promotion of practical andrological knowledge directed to broad audiences, 3) to exchange views and opinions on issues of clinical and experimental results, and 4) to provide information on conferences and courses on the subject of andrology. The proposed themes of the journal are: 1) clinical andrology including etiopathogenesis, diagnostics and treatment of developmental disorders, infertility and men's aging, 2) innovative diagnostic methods, 3) experi-mental andrology developing on the basis of the basic sciences and 4) other interdisciplinary topics related to the field of andrology.The journal is directed to physicians with specialty directly or indirectly related to andrology, including urologists, endocrinologists, gynecologists, pediatri-cians, but also to family doctors facing the increasingly common problem of couple infertility and problems of aging men. Moreover, our intention is to get the interest of laboratory diagnosticians playing an important role in keeping the correct therapeutic proceedings, based on a broad panel of tests and studies. Their implementa-tion still requires proper and comprehensive training in andrological diagnostics, including seminological one.We hope that our magazine will also raise the interest of biologists dealing with the functions of the male repro-ductive system in the framework of basic sciences, as well as veterinarians and others who will find informa-tion expanding their knowledge and shaping opinion in the range of broad sciences of andrology. We encourage you to publish original papers, case reports and short announcements, as well as review papers, worked out in the concentrated, didactic and accessible form. In these articles authors should present the current state of the global knowledge as well as their own opinions. We want the journal to act as an informer and a guide in the field of andrology and become a forum for discussion. In addi-tion, we invite you to publish articles that are transla-tions of publications appearing in the English language, which present significant progress in andrology.
Małgorzata Piasecka
Editor in chief
Jolanta Słowikowska -Hilczer
Presidentof Polish Society of Andrology

KONFERENCJA POLSKIEGO TOWARZYSTWA ANDROLOGICZNEGO – 21. DZIEŃ ANDROLOGICZNY Łódź,
25–26.10.2019; www.pta2019.pl
Sprawozdanie

W dniach 25.–26. października 2019 r. w Hotelu Borowiecki w Łodzi odbyła się Konferencja – 21. Dzień Andrologiczny organizowana przez Polskie Towarzystwo Andrologiczne (PTA). Stroną organizacyjną tego wydarzenia zajęła się Fundacja dla Uniwersytetu Medycznego w Łodzi (FUMED) przy współpracy Komitetu Organizacyjnego oraz Komitetu Naukowego pod przewodnictwem prof. dr hab. n. med. Jolanty SłowikowskiejHilczer. W dniu 24. października spotkanie poprzedził egzamin testowy z andrologii klinicznej, po raz trzeci organizowany przez PTA. Uczestniczyło w nim 15 lekarzy, z których 12 uzyskało pozytywny wynik i otrzymało Certyfikat PTA z andrologii klinicznej. Część naukową Konferencji rozpoczęło powitanie wygłoszone przez Przewodniczącą PTA prof. dr hab. n. med. Jolantę Słowikowską-Hilczer oraz wręczenie Nagrody Młodych Polskiego Towarzystwa Andrologicznego im. Prof. Michała Bokińca, którą za rok 2018 otrzymał dr n. med. Kamil Gill ze Szczecina. Laureat w krótkiej prezentacji przedstawił nagrodzoną pracę. W sesjach naukowych wykłady wygłosili goście zagraniczni: prof. Ewa Rajpert-De Meyts z Danii, prof. Davor Jezek z Chorwacji, prof. Aleksander Giwercman i prof. Yvonne Lundberg-Giwercman, prof. Gerhard Van der Horst i prof. Stefan Du Plessis z Republiki Południowej Afryki, prof. Valentinas Matulevicius i prof. Birute Żilajtiene z Litwy. Ponadto wykłady wygłosiło wielu znakomitych wykładowców z Polski. Tematyka dotyczyła zagadnień związanych z męską płodnością, wpływem zaburzeń endokrynologicznych na czynność męskiego układu płciowego, możliwościami terapii urologicznych w zaburzeniach erekcji i wielu innych. Omawiano także metody diagnostyczne i możliwości terapeutyczne w niepłodności. Przedstawiciele nauk podstawowych przedstawili wyniki najnowszych badań związanych z fizjologią i patologią męskiego układu płciowego. Dużym zainteresowaniem cieszyła się także sesja krótkich prezentacji naukowych. Podczas Konferencji odbyło się Walne Zgromadzenie Członków Polskiego Towarzystwa Andrologicznego. Wybrano nowy Zarząd i Komisję Rewizyjną PTA. Nowym Przewodniczącym został dr n. med. Szymon Bakalczuk z Lublina. Spotkanie zakończyło się podziękowaniami dla wykładowców, uczestników, organizatorów i sponsorów Konferencji oraz zaproszeniem na Konferencję Polskiego Towarzystwa Andrologicznego w 2020 roku, która odbędzie się w Warszawie. Streszczenia wykładów

Katarzyna Bajszczak
WYTYCZNE NA TEMAT POSTĘPOWANIA W TRANSSEKSUALIZMIE
Instytut "Pomnik – Centrum Zdrowia Dziecka", Warszawa
e-mail: katarzynabajszczak@gmail.com
Już samo ustalenie rozpowszechnienia w populacji osób transseksualnych jest problematyczne. Uznaje się, że wśród dorosłych mężczyzn to 0,005–0,014%, natomiast wśród kobiet – 0,002–0,003% (DSM-5, wyd. V, 2018). Ostatnio są publikowane statystyki wskazujące, że osób określających siebie jako transseksualne, transpłciowe lub nieokreślone płciowo może być znacznie więcej. Przyczyn rozbieżności należy prawdopodobnie szukać w szerszym obecnie rozumieniu problemu. Możemy obserwować więcej osób zgłaszających dysforię płciową, od kiedy zdecydowano się odejść od traktowania transpłciowości w kategoriach psychopatologii. Osoby takie odczuwają dyskomfort i cierpienie nie tylko z powodu niedopasowania ciała do tego, jak się czują, ale też gdy odmawia się im możliwości wyrażania swej tożsamości. Nie wszyscy dążą do zmiany wyglądu ciała, pewnej grupie wystarcza możliwość funkcjonowania w odczuwanej płci. Od lat trwa dyskusja wokół modelu postępowania w transseksualizmie. Zarówno obowiązująca już amerykańska klasyfikacja DSM-5, jak i oczekująca na wejście w życie międzynarodowa klasyfikacja ICD-11 wyłączają zaburzenia tożsamości płciowej z kategorii zaburzeń osobowości i zachowania. To nasuwa pytania, czy i jak leczyć stan, który nie jest uznawany za zaburzenie. Według Światowego Towarzystwa na Rzecz Zdrowia Osób Transpłciowych (WPATH, ang. The World Professional Association for Transgender Health) transpłciowość jest kwestią różnorodności, raczej wariantem seksualności niż patologią. Wciąż otwarta pozostaje też kwestia zaburzeń tożsamości płciowej u dzieci. Rodzą się bowiem wątpliwości, na ile można ingerować w naturalny proces dojrzewania na żądanie pacjenta, który nie osiągnął pełnej dojrzałości. WPATH cyklicznie przedstawia obszerny i szczegółowy dokument regulujący standardy postępowania wobec osób transpłciowych. W 2017 r. rekomendacje dotyczące postępowania medycznego w transseksualizmie wspólnie opublikowały europejskie i amerykańskie stowarzyszenia endokrynologiczne i andrologiczne. Stanowisko w sprawie sytuacji społecznej, zdrowotnej i prawnej osób transpłciowych wydało też Polskie Towarzystwo Seksuologiczne. W Polsce model postępowania w takich przypadkach jest poddawany krytyce przez różne środowiska jako niedoskonały, ale od lat pozostaje praktycznie niezmienny

Eliza Filipiak
WPŁYW INFEKCJI HPV NA JAKOŚĆ NASIENIA
I PŁODNOŚĆ MĘŻCZYZN
Klinika Salve Medica, Łódź
e-mail: kontakt@badanie-nasienia.pl
Zakażenie wirusem brodawczaka ludzkiego (HPV, ang. human papilloma virus) przenoszone jest głównie drogą płciową. Wyróżnia się ponad 150 typów HPV, z czego część nazywana jest hrHPV (czyli high-risk HPV). Ta właśnie grupa "wysokiego ryzyka" przyczynia się do powstawania nowotworów (m.in. szyjki macicy, sromu, pochwy, odbytu, prącia). Coraz więcej dowodów wskazuje na to, że obecność HPV w nasieniu nie jest obojętna dla jego jakości i płodności męskiej. HPV w nasieniu stwierdza się nawet u kilkunastu procent pacjentów zgłaszających się z powodów problemów z płodnością (Laprise i wsp.: Hum Reprod., 2014, 29, 640–651). Wykazano, że HPV w nasieniu ma związek z obniżoną koncentracją, ruchliwością plemników oraz zwiększoną fragmentacją ich DNA (Jeršovienė i wsp.: Medicina (Kaunas). 2019, 55 (7), 377) (Boeri i wsp.: Hum Reprod. 2019, 32 (2), 209–217). Jeśli chodzi o badania dotyczące rozrodu, to wykazano m.in., że z szanse na powodzenie inseminacji domacicznej (IUI) są znacznie niższe, jeśli użyte nasienie jest HPV-dodatnie, a przy poziomie wirusa przekraczającym 0,66 wiriona/plemnik do ciąży nie dochodzi (Depuydt i wsp.: Fertil Steril. 2019, 111 (6), 1135–1144). Garolla i wsp. (Fertil Steril. 2016, 105 (1), 65–72) wykazali, że użycie technik rozrodu wspomaganego w przypadkach korzystania z nasienia pacjentów HPV-dodatnich daje znacznie mniejszą skuteczność niż w przypadku pacjentów, u których nie stwierdza się HPV w nasieniu. Ponadto w grupie od ojców HPV-dodatnich obserwuje się wyższy odsetek poronień. Te, a także inne badania wskazują, że znaczenie dla sukcesu reprodukcyjnego ma lokalizacja wirusa – gorzej rokuje, jeśli wirus wykrywany jest na plemnikach, a nieco lepiej, jeśli jest obecny na komórkach złuszczających się z nabłonka plemnikotwórczego. Wydaje się, że plemniki z HPV (wirus umiejscawia się na główce plemnika w rejonie równikowym) zachowują zdolność do zapłodnienia (choć może być ona obniżona), ale obecność HPV ma wpływ na początkowy etap rozwoju zarodka i wczesne fazy ciąży (Foresta i wsp., PLoS One. 2011, 6 (3), 1-9). Okazało się także, że szczepienie mężczyzn przeciwko HPV przyczynia się do zwiększenia odsetka naturalnych ciąż i liczby urodzonych dzieci (Garolla i wsp.: Sci Rep. 2018, 17, 8 (1), 912). Siristatidis i wsp. (Ultrasound Obstet Gynecol. 2018, 51 (1), 87–93) wykazali w metaanalizie, że są podstawy, by twierdzić, że infekcja HPV u mężczyzny ma negatywny wpływ na efekt reprodukcyjny.